Best Wines of 2013 – a mid-year review
First, an update on how we choose wines for review
As a rule, we choose the wines we review and buy the samples. We do this for several reasons:
1.       It avoids the vast quantities of wine samples other wine sites receive from all over Australia, and feel compelled to review.
2.       It lets us make sure that the wines we review are readily available at a street price of under $25
3.       It lets us choose the wines we feel are worth reviewing
We do a great deal of homework behind the scenes before we choose wines for review. We know from experience that many labels don't produce wines worth reviewing, or wines that are good value, or wines that give genuine pleasure to the drinker. Of course we scan the major review sites to make sure we haven't missed a significant change, such as a change of owner or winemaker. The review sites we pay the most attention to are:
James Halliday's Wine Companion (print and online versions)
The Winefront – Mrs Mattinson, Bennie and Walsh
The Gourmet Traveller Wine magazine crew – Peter Bourne et al
We also check the reviews of Huon Hooke, Chris Shanahan, Nick Stock and Tony Jordan from time to time.
The bottom line is that the wines we review here have been carefully selected because they offer well above average quality at attractive prices. This week, a wine merchant friend has given us a big bunch of spare samples, so over the next few weeks we'll be reviewing wines much the way others do: go through the samples we've been given and share our impressions.
This week, just for a change, we're going to look at the best deals we saw in the last six months – the ones that are still out there somewhere.
Best of 2013 so far (with our point scores)
Devil's Ridge Block 16 Polish Riesling 2012 – $10 at Kemenys. 93+ points. Made by the Wilsons at Polish Hill River. Absolute bargain
Pewsey Vale Riesling 2012 – $16 at Winestar. 95 points. The good news is that the 2013 looks just as good
Heggies Eden Valley Riesling 2012 - $15 at Dan M's. Another great from the same stable (Yalumba)
Essenze Sauvignon Blanc 2012 - $12.50 at Kemenys. Better than the bulk Kiwis by a mile. Trophy and 2 golds.
Fraser Gallop Estate Semillon Sauvignon Blanc 2012 – $18 at WineOnline. 94+ points. Gets 96 from JH, and it is a great example of this style the West does very well.
Yen Valley Viognier 2012 – $17 at Dan M's. Yalumba has been making Viognier longer than anyone in Australia and it shows
Evans and Tate Metricup Road Chardonnay 2011 – $17 at Dan M's. 94 points. The 2010 got the medals, but we prefer this wine. It goes to show that 2011 wasn't just a great vintage for reds in Margaret River.
Fraser Gallop Chardonnay 2011 - $18 at WineOnline. Real finesses and deceptive elegance here. Hints of white peaches and a touch of citrus, creamy mouthfeel from well-judged oak, minerals on the long finish. So much class for less than $20 is hard to believe.
Hoddles Creek Chardonnay 2012 – $19 at MyCellars. 94+ points. More forward than the 2011 but shows all the same hallmarks of white stone fruit, cashews and seamless oak integration.
Hoddles Creek Chardonnay 2011 – $19 at Winestar. 95 points. Stunning Chardonnay, can't believe that this is still around.
Frogmore Creek Chardonnay 2011 – $23 at MyCellars. 95 points from us, 96 from JH, 94 from Mattinson. Classy, elegant, polished.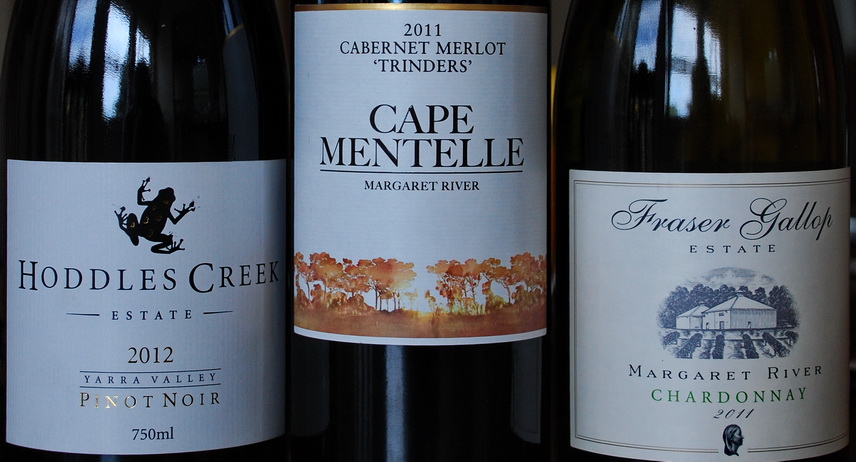 Brookland Valley Margaret River Cabernet Merlot 2011 – $11.50 at 1st Choice. 92+ points. Enjoyable wine, outstanding value
Hidden Label McLaren Vale Merlot 2011 – $12 at Kemenys. This is Richard Hamilton's Merlot under a plain wrapper. Serious Merlot at a bargain price.
MadFish Gold Turtle Cabernet Merlot 2011 - $14 at Dan M's. 94 points. Classic Margaret River Cabernet Merlot from a top year. Has all the velvety richness and that slatey, dusty Margaret River Cabernet character in abundance. Ridiculous price.
Cape Mentelle Trinders Cabernet Merlot 2011 – $20 at Kemenys. 94+ points. Another example of the great 2011 vintage in Margaret River. Rich, ripe and velvety.
Brookland Valley Margaret River Shiraz 2011 – $11.50 at 1st Choice. 92 points. What a cool change from the heavy Barossa and McLaren Vale Shiraz fare.
Crabtree Watervale Shiraz 2010 – $20 at MyCellars. 95 points. Terrific Shiraz with elegance, real class, layers of flavour and seamless oak integration. Handmade by Kerry Thompson (Wines by KT)
Langdorf Barossa Valley Grenache Shiraz Mataro 2010 – $10 at GLUG. 93 points. Has all the sweet fruit we look for in this style, without the heavy hand.
The Harem 'Layla' Barossa Valley Grenache Mataro Shiraz 2010 – $11 at GLUG. 94 points. Moves the goalposts. Can't beat this for twice the money.
Hewitson Miss Harry GSM 2010 – $20 at Winestreet . 95 points. There is a lot going on here, and the wine is just a pup. Old vines and careful winemaking, punches way above it weight – just about gone though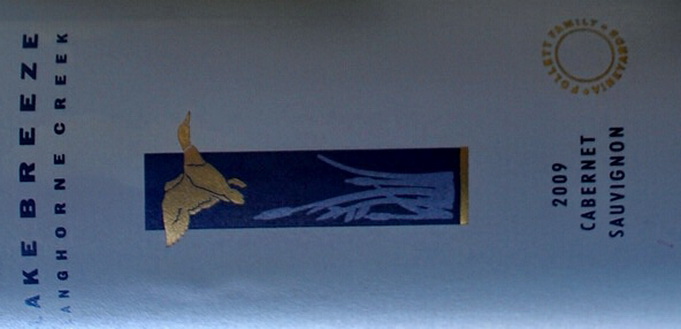 Lake Breeze Cabernet Sauvignon 2009 – $20 at Winelistaustralia. 'Magnificent deep colour, velvety appearance and scarlet robes. A complex array of mint and blackcurrant aromas along with cedary oak notes. The concentrated palate exhibits a lovely silky texture, well layered chocolate and cassis flavours before a wonderfully long, soft tannin finish.' That's from WLA, can't really improve on the description. It's a great wine, and more profound than the 2010.
O'Leary Walker Cabernet Sauvignon 2010 - $20 at 1st Choice Big but built well. Wonderful depth of dark berry fruit wrapped in a tight envelope of fine acid and tannins.
Bowen Estate Cabernet Sauvignon 2010 – $25 at WinesellersDirect . 96 points. Great Coonawarra Cabernet, on the big side but shows exemplary balance. Will get better too. Cork!
Lake Breeze Cabernet Sauvignon 2009 – $20 at WinesellersDirect . 95+ points. A Langhorne Creek red with layers of flavour and terrific energy, big but not heavy, built for the long haul. 
Xanadu Cabernet Sauvignon 2009 – $28 at Winemakers Choice. Wonderful wine, came top of the GTW tasting against a lot of fancied opposition. We liked the 2010 even better, also less than $30 when you shop around.
A really mixed bag, with some useful finds and a bunch of WA Cabernet Merlots.
BUY
Annie's Lane Riesling 2013 – this is a winner, even better than the 2012. More length, touch more austerity. Very impressed given the humble label and the often humble price <$10 (not this week but just wait a little).
Ad Hoc Hen & Chicken Chardonnay 2012 - $18 at Dan M's
It's made by Larry Cherubino from Pemberton (great Southern WA fruit). Stone fruits, melon and a hint of citrus, touch of polished oak, nice mouth feel.  Would be better value at $15 though.
Sparkling Azahara Chardonnay Pinot Noir - $10 at Winestar
I had this on my best list for a while, then tried it again on the weekend when a friend I'd recommended it too for a party brought it along. This is not only better than it has any right to be, but you'd be hard pushed to find a more enjoyable bubbly this side of $17. There are no rough edges or off-notes here to give away its low price or humble Riverland origins. Perfect party bubbly.
Ray Jordan said it all in the Weekend West last year: 'This humble sparkling wine made by the charmat (tank fermentation) method won a gold medal at the recent Decanter Awards and it really is damn good. Creamy almond and stonefruit with a persistent finish ...'
Norfolk Rise Mount Benson Sauvignon Blanc 2012 - $14 at Nicks
The label is a copy of Cloudy Bay's, the winery owned by Belgian firm Kreglinger which also owns Pipers Brook in Tassie. The wine is fine and fresh and full of life, nice change from the usual Kiwi fare. Gold medal in Melbourne last year, 93 from Halliday, 91/92 from us. Will fill out over the next 12 months.
Fraser Gallop Estate Margaret River Semillon Sauvignon Blanc 2012 - $18 at WineOnline
The 2011 was a ripper, and this one looks much the same. Classic SSB, a style this area does well.  The Semillon keeps everything else in good shape here. Will improve for a year or so. 94 from Gary at the Y-front (sorry, WineFront).
Wynns Coonawarra Estate Chardonnay 2012 - $ 11.50 at Dan M's
This has always been an oaky style, often an over-oaked style. This time there's enough ripe fruit to stand up to the oak, and the whole thing is more enjoyable, especially at this price. Not exactly subtle but great drinking.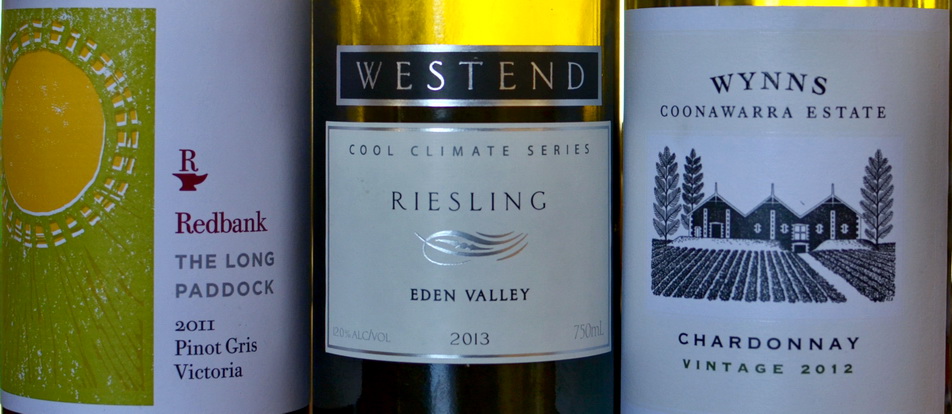 Westend Eden Valley Riesling 2013 -$15 at OurCellar
Westend is a Riverina-based winery made very successful by the hard-working Calabria family, so successful that it has been acquiring vineyards from the Hilltops in NSW to the King Valley in Victoria and the Barossa Valley. This is a serious Eden Valley Riesling, austere and steely, with a long finish and a good fine acid grip. Will need years to open up.  
Reschke Coonawarra Cabernet Sauvignon 2009 - $14 at Dan M's
You get a lot for your $14 here: a mature, medium-bodied Cabernet with lots of sweet fruit and some developed notes. Great drinking now and for the next year or two, good food wine.
Not Convinced
Redbank Long Paddock 2012 whites - $12 at Winelistaustralia
The Hill-Smith family of Yalumba fame bought the Redbank brand from Neil and Sally Robb in 2005. The 'Victoria' series includes the inevitable Chardonnay and Sauvignon Blanc, plus a Pinot Gris which was our pick of them. Not much to complain about for $12 but not much to get excited about either. These are slick commercial wines in the vein of Yalumba's cheaper Y-series, so we have to ask WHY?
Sorry. Nice colourful labels.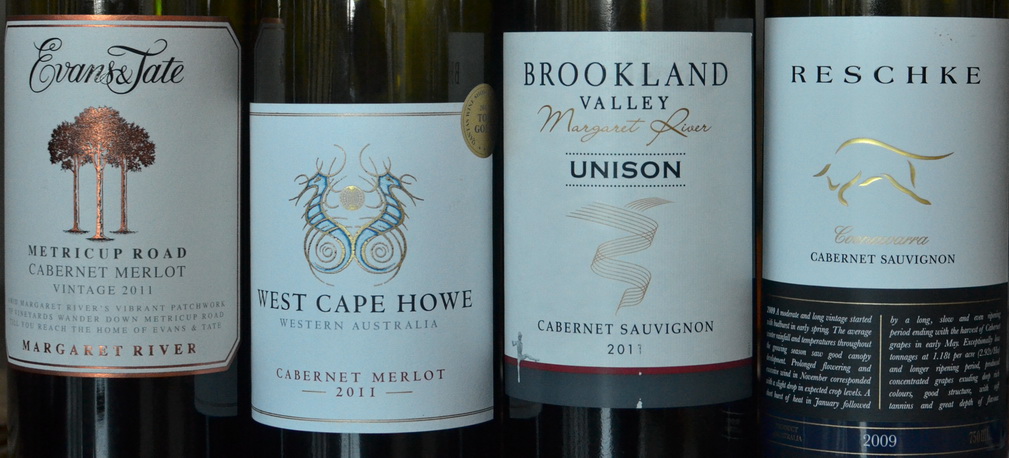 Evans & Tate Metricup Road Cabernet Merlot 2011 - $16 at Winestar
I've written elsewhere that we had great expectations after Halliday's 96 points, and that the wine didn't come close. Perhaps we're being a bit harsh, but one of our subscribers wrote in and said he agreed 100%. If in doubt, try it yourself.
West Cape Howe Cabernet Merlot 2011 - $15 at Winestar
Another disappointment – lots of glo-glo reviews but this struck us as a big, clumsy red that lacks the velvety, dusty richness and elegance of Cab Merlots from the west. Red all about it at the Winestar link above. Spend a couple more dollars and buy the WCH Hannah's Hill Cab Merlot instead.
Brookland Valley Unison Cabernet Sauvignon 2011 – $16 at Grays Online
Agonised over this wine, which has a lot of subtlety and elegance going for it, all the things the previous number lacks. In the end it lacks depth and complexity and real interest for a $16 wine.
No idea why Brookland Valley needs a new line so close to its Verse 1 line – street price $13 – 14. The whites we tried – Chardonnay and Semillon Sauvignon Blanc (both 2012) are in the same mould as the red: elegant to the point of being mean and thin, and they don't offer a lot of varietal flavour.  We prefer the cheaper range, frankly - better wine and better value.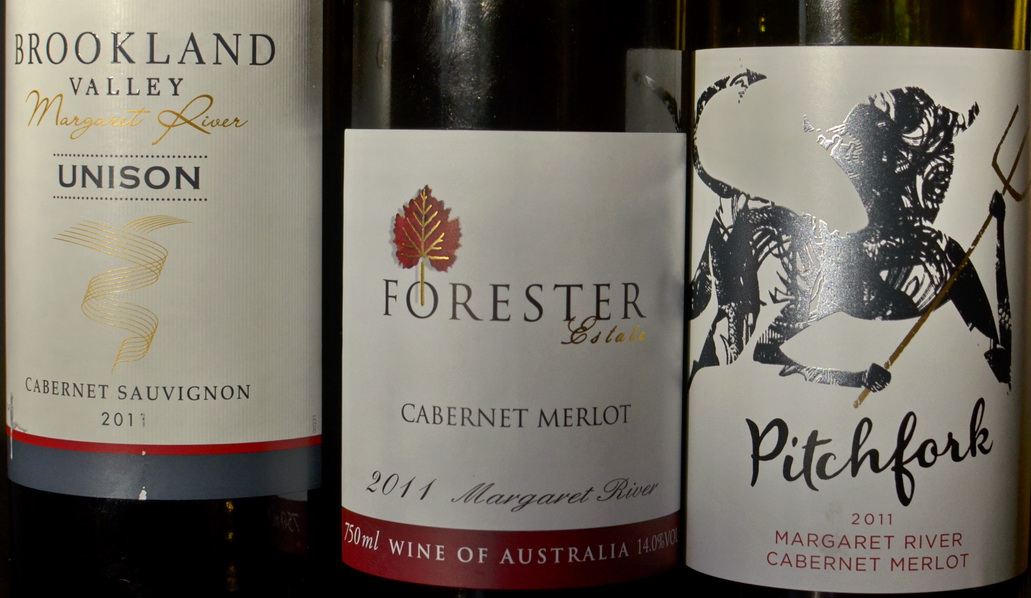 The photographer got bit confused here.
Forrester Cabernet Merlot 2011 – $16 at Dan M's
48/41/6/5% blend of cabernet sauvignon, merlot, malbec and petit verdot, matured for 18 months in French barriques (15% new). We liked the 2009, Halliday gave the 2010 (which we liked less) 95 points, and we liked this one less again. Medium bodied, rich and soft but lacking focus or a line that keeps it pointed in the right direction.
Pitchfork Margaret River Cabernet Merlot 2011 - $13 at Dan M's (online only)
A simple Cab Merlot from the west, this is Hayshed Hill's base label. Well-made and a fair wine for the money but not exciting, and not offering nearly as much as the Madfish Golden Turtle Cab Merlot 2011 for a dollar more.
AVOID
We've said it already – Please avoid the Redbank Victoria Chardonnay and Sauvignon Blanc 2012. These are bland commercial wines of no merit, exactly the kinds of wines that made us start this website and show people how much better you can do for the same money or a dollar more.
Add the Brookland Valley Unison whites we mentioned above, and it pains us to do this because we're big fans of the Verse 1 range.
Kim
A lot of diverse wines this week, some real bargains among them
July 23, 2013
BUY
Sadly, the Waipara Pinot Gris 2011 is pretty well all gone. This a Sophia Loren style of PG, with a serious body and lots of curves – 14.5%. Great with rich pork or duck dishes. If you have any left, drink it soon.
The TarraWarra Pinot Noir 2010 can still be found in some 1St Choice stores for $21, although the website shows the 2011. Haven't tried that one yet, and I've said enough about the 2010 – good to know that all of it was right (best Pinot under $25 etc)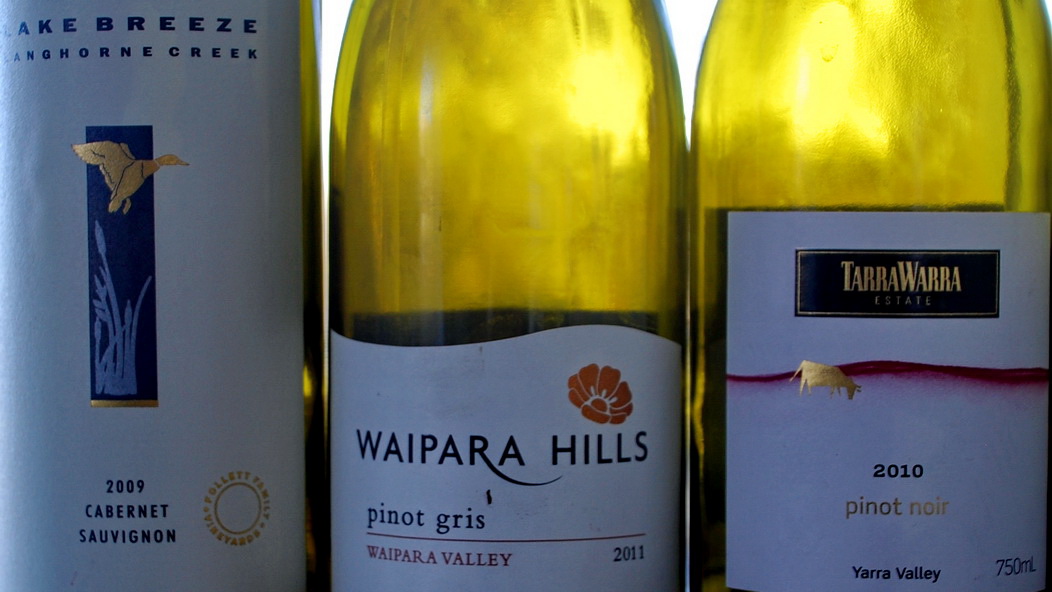 Lake Breeze Cabernet Sauvignon 2009 – $20 at WinelistAustralia

Read the Rest of the reviews here
Price is no Guide to Wine Quality
Gourmet Traveller Wine Cabernet Tasting proves our premise
These GT Wine feature tastings are interesting events. Stand-up but well organised, lovely cheeses and bread, and less than $50. This one was held last Tuesday at Peter Bourne's new facilities in Danks St Waterloo.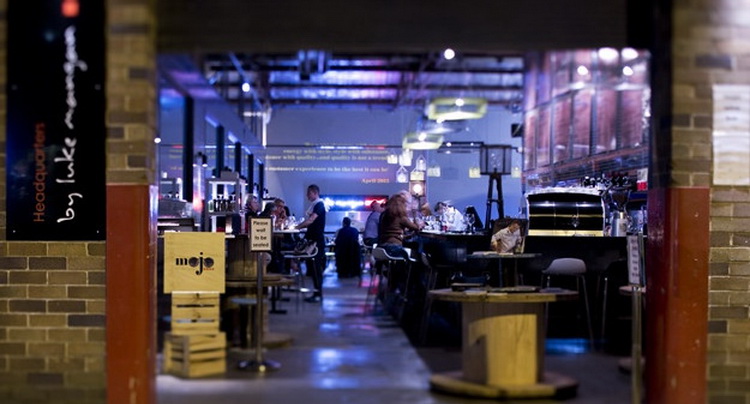 photos from www.broadsheet.com.au
He's sharing space in Luke Mangan's new MOJO restaurant, a dark industrial space straight out of Bladerunner. It holds as much attraction for cranky old romantics like me as a war zone, and the marketer in me cringes at the writing on the wall.

A lot of empty words there, and repeated too. What are we trying to say here? Good Food?
Gourmet Traveller Wine Tastings
Let's get down to this customer's experience. These tastings put more or less the same wines on the table that were judged in a feature article of the magazine. Some 40 wines, in this case, in long rows. This is not the way we like to judge wines – over several days, at leisure, with food and without, but …
The star performers picked by the GWT judges were (in descending order):
97        2009 Xanadu Cabernet Sauvignon $30
97        2009 Brands Laira One Seven One Cabernet Sauvignon $60
96        2010 Wirra Wirra Angelus Cabernet Sauvignon $60
96        2010 Deep Woods Reserve Cabernet Sauvignon $60
96        2008 Voyager Cabernet Sauvignon Merlot $50
95        2010 Houghton Gladstones Cabernet Sauvignon $60
95        Rosily The Cartographer Cabernet Sauvignon Franc Merlot Petit Verdot $20
95        Amelia Park Reserve Cabernet Sauvigon $40
The bad news is that the 2009 Xanadu is in very short supply; winemakerschoice is the only source I can find. The good news is that that 2010 is easier to find, and the second good news is that I liked it even better. Both wines are polished performers in the medium body style (14%), but the 2010 is a touch more generous on the finish. The third good news is that you can buy it for $30 at Dan Murphy's or Winestar, which makes it one of the bargains in this expensive line-up. My kind of wine, my kind of style. 95 points
Brand's Laira One Seven One Cabernet Sauvignon 2009 has more medals on its chest than a tin-pot South American Dictator: 7 trophies 12 gold. It's a classic example of wine judges falling for the obvious charms: layers of extracted ripe blackberry fruit, beams of cedary oak plus chocolate, tobacco and a hint of liquorice. Huge wine (14.8%), for subtlety look elsewhere. McLaren Vale meets Coonawarra. 91 points
Much the same comments apply to the Wirra Wirra Angelus 2010. This is a dressed up Dolly Parton style, meaning super ripe fruit supported by a corset of expensive oak but lacking genuine depth and structure. There's not enough acid / tannin backbone to hold all the flesh together in the long term, I fear. 91 points
I'm not going to go through the line-up in this kind of detail, I just wanted to contrast the top three. It's curious that the judges gave three such different styles, but then there were
Of the rest, I liked these best:
Voyager Estate Cabernet Sauvignon Merlot 2008, classic Margaret River Cab Merlot with depth and complexity. Benchmark style. 95 – $50 at Winestar
Yalumba Menzies Cabernet Sauvignon 2008, my kind of Coonawarra with plenty of cool Cabernet flavour and herbaceous complexity in a medium-bodied style. Maturing nicely. 95 – $40 at Nicks
Cullen Diana Madeline Cabernet Sauvignon 2010, stylish and elegant with great depth, 94+ RR $115
Henschke Cyril Henschke Cabernet Sauvignon 2009, a classic Cabernet with cool fruit and interesting herbs, restrained, built for the long haul. 93-94. RR $135
Deep Woods reserve Cabernet Sauvignon 2010, lots of goodies, built for the long haul. 93+, RR $60
Lenton Brae Willyabrup Cabernet Sauvignon 2009, sweet fruit and cedary oak, complex and polished, showing some development. 93+, RR $60
Woodlands Margaret Cabernet Sauvignon 2011, real Bordeaux style of the austere kind, herbs and cedary oak, classy but needs a few years to reveal its charms. 92-94 $40 at Dan M
Rosily The Cartographer Cabernet Sauvignon 2010, herbs and spices in an elegant package, touch hollow on the finish. 93. $24 ex vineyard
A few disappointments:
Houghton Gladstones Cabernet Sauvignon 2010, lots of sweet fruit wrapped in classy oak and polished tannins. Plenty of work has gone into this, but it lacks a bit of cohesion in my book. I'm the odd man out with 92 here, both JH and GW at the Winefront give it 97. RR $70
Majella Cabernet Sauvignon 2010, well-made wine with lots going for it, but too big for my liking. 92 – $30
Amelia Park Reserve Cabernet Sauvignon 2010, smooth, elegant and balanced but lacking a bit in the depth department. 92 RR $50
Vasse Felix Heytesbury, huge wine, looks elsewhere for elegance. Again I'm out on a limb here. I haven't liked other recent Vasse Felix reds either. 91 – RR $90
Fraser Gallop Parterre Cabernet Merlot 2010, disappointing, ordinary finish. 91 $30
Mr Riggs Outpost Cabernet Sauvignon 2010, a big, clumsy Coonawarra Cabernet. 90 $20
What's the Bottom Line?
These reds ranged from $20 to over $100, with most sitting in the middle at $50-70. Here's the takeaway:
·         The most expensive wines were not the best
·         The expensive wines have a lot of work done but it doesn't make them better
·         Some of the expensive wines are a few years old, and that's an advantage
·         The best wine cost $30, and my next best 2 cost $40 and $50.
So grab some of the Xanadu 2010 if you like Margaret River Cabernets. 
Kim
Teusner, Mitchells, Leconfield, Samuel's Gorge, Spinifex, Riposte, The Lane, O'Leary Walker, CrabTree, Paulett's
South Australia's delights in mid-winter
This set of wine reviews doesn't follow our usual pattern. We spent a week in and around Adelaide, and tasted wines in various circumstances not as well controlled as is our norm. So we'll go for a short tour instead, selecting the best experiences. 
On a sun-filled winter morning, Paxton's winery was the perfect location among the green rolling hills of McLaren vale. I've written about the wines before: the AAA Shiraz Grenache and the Vale Cabernet Sauvignon are great examples of the more elegant McLaren Vale style red. The cellar door has a greater choice, of course, which includes a Marsanne and a Pinot Gris. Both are worth trying if you get the chance. The winery is certified biodynamic.
Samuel's Gorge was another vineyard in a wonderful location not far from Paxtons. Justin McNamee left his winemaking job at Tatachilla in 2003 to set up this venture on the old Seaview site. It's a great place to visit and sip wine in. The Grenache and the Mourvedre impressed us, but the prices are over our $25 limit. The view is free of course and Yes, that's the sea you can see.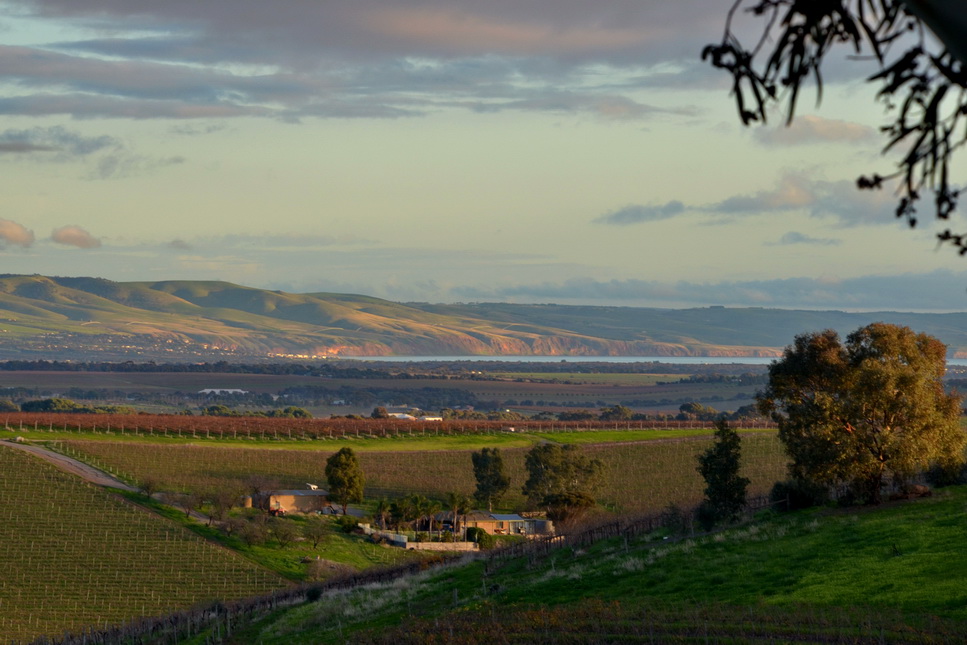 Leconfield is owned by Richard Hamilton of Hamilton Ewell fame, a competitor for Ben Ean Moselle some decades past. Richard is a surgeon who has built the McLaren Vale and Coonawarra wineries into a very successful business. He has decided to use the name Leconfield – he bought the vineyard from his uncle Syd who planted it as the umbrella name, and all the wines are made by the same team led by Paul Gordon. The Cellar door on the road from McLaren Vale to Willunga is very inviting.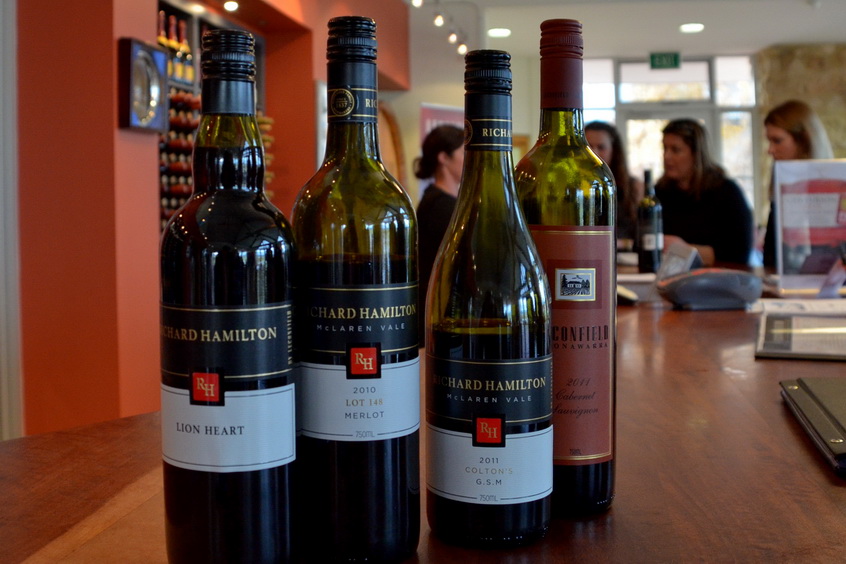 The red wines we see in retail outlets are the 148 Merlot, the Shiraz and the Hutt Block Cabernet. These are all good wines in the more modern, more elegant mould of McLaren Vale Reds. The Shiraz won the trophy for the best Shiraz in last year's Visy Shiraz challenge. Chairman of judges Gary Baldwin said balance, harmony and drinkability were key drivers in determining the top wines. He said the 2010 Richard Hamilton McLaren Vale Shiraz was 'fresh, beautifully balanced, with wonderful primary fruit and a good, soft finish – just a spectacular wine.'
There are some other reds available at the winery but we liked the Merlot best, and the good news is that the 2011 Merlot is at least as good as the 2010. It's really good news because Kemenys sell it under a Hidden Label for just $12, don't ask us why. The Leconfield Merlot is another favourite, but will set you back $21.
The real surprises here were the whites: Rieslings from Coonawarra and McLaren Vale, and a Mr V (Mister V, result of a printer error) a full-bodied Marsanne, Roussanne & Viognier blend. The McLaren Vale Riesling was rounder and softer than the more austere Coonawarra, but both were good wines.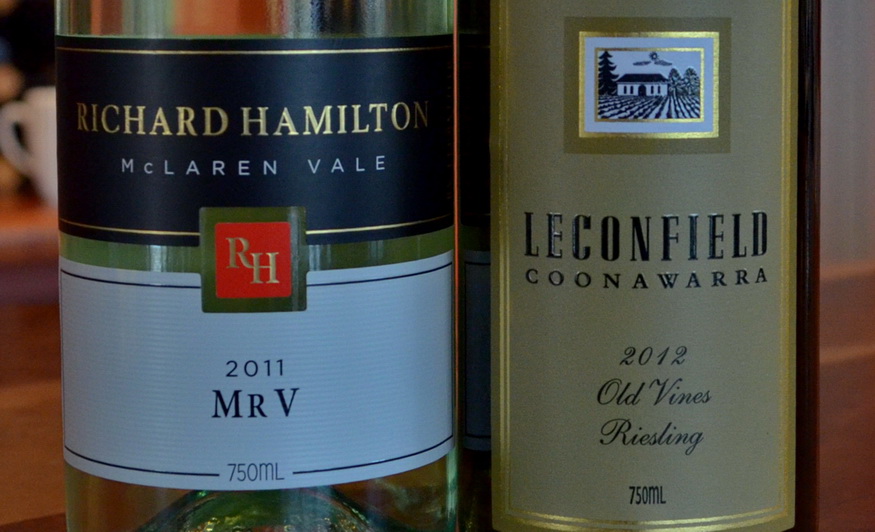 The Adelaide Hills area is even more picturesque, with more rolling hills and lots of interesting little villages once you get beyond the Disneyland caricature of a German village that is Hahndorf. There is a little German fare left here, but the best food we found was smoked mackerel at Harris Smokehouse on the main street. The best beer we found was the Bohemian Pilsener at Lobethal's micro brewery.  Real German style.
The Lane (once called Starvedog Lane, now newly independent) is a vineyard that makes lovely wines in a gorgeous location.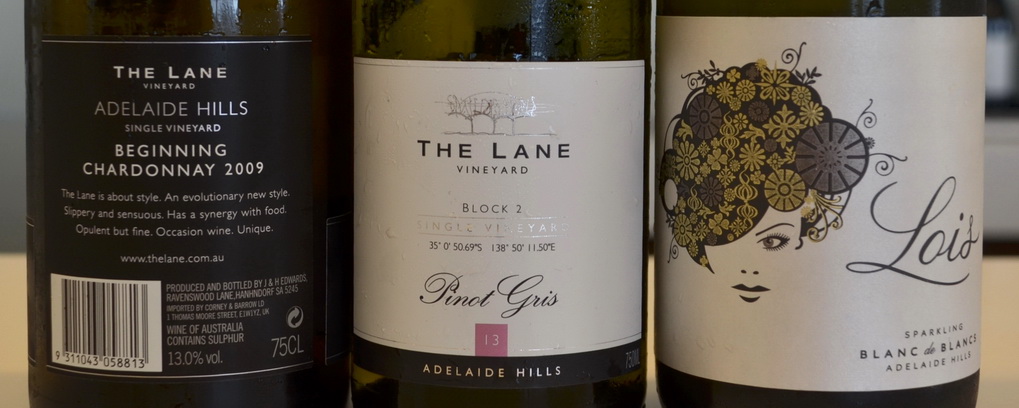 Lois is a pretty obvious name, but the bubbly is a lovely, fluffy glass of effervescence.
The Barossa Valley was lush and green as well, and there's a lot to see. For one, you get a real sense of history and family traditions when you visit some of the older wineries.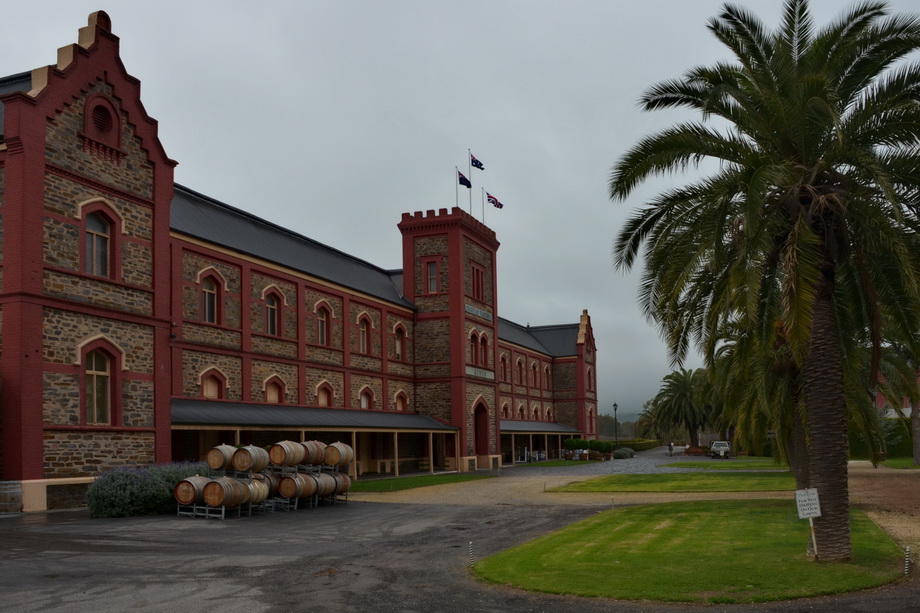 This is Chateau Tanunda, which used to make a lot of fine Brandy, became part of the Southcorp empire (along with parent company Seppelt) and has now been bought by the Geber family who've restored it to its former glory.
Kym Teusner's operation is on a different level: a small winery that's literally bursting at the seams. Kym is a workaholic who is making 20 or 30 wines under different labels, most from fruit sourced from selected growers.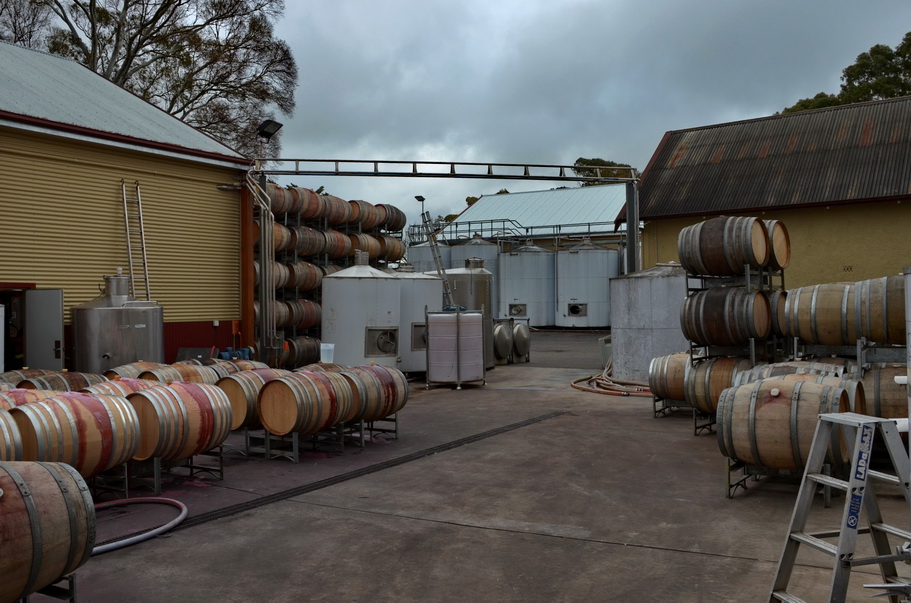 The wines are great and often great value too. The Independent is a case in point: a Shiraz Mataro of serious quality for less than $20. The Dog Strangler is a lovely straight Mataro with a touch of Kym's quirky wit.  The Avatar GSM has long been a favourite of ours, and it just squeezes in under our $25 ceiling.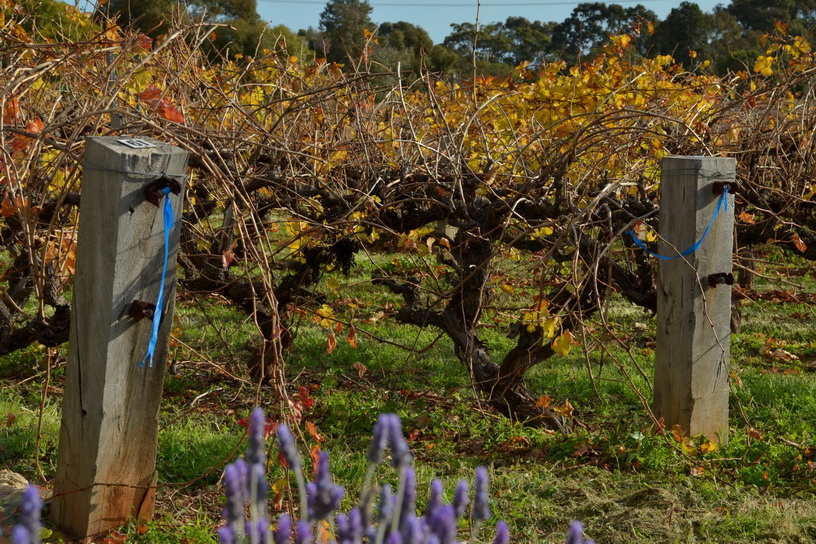 Cheating a bit here – Teusner's logo features an old vine, but this photo was taken at Penfolds Magill vineyard in Adelaide.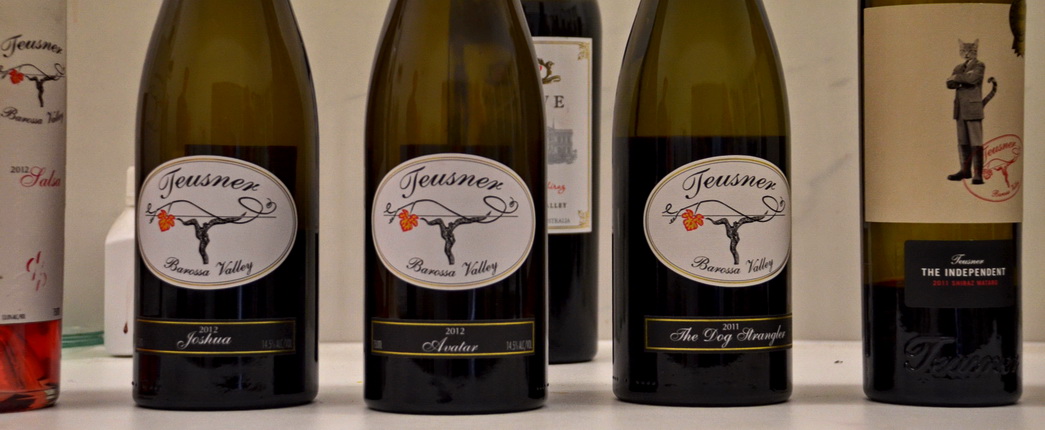 There's no room for a cellar door at Teusner wines, but you can find them at the Artisans of the Barossa hangout down Light Pass Road at Angaston. Other Artisans include John Duval, Sons of Eden and Spinifex.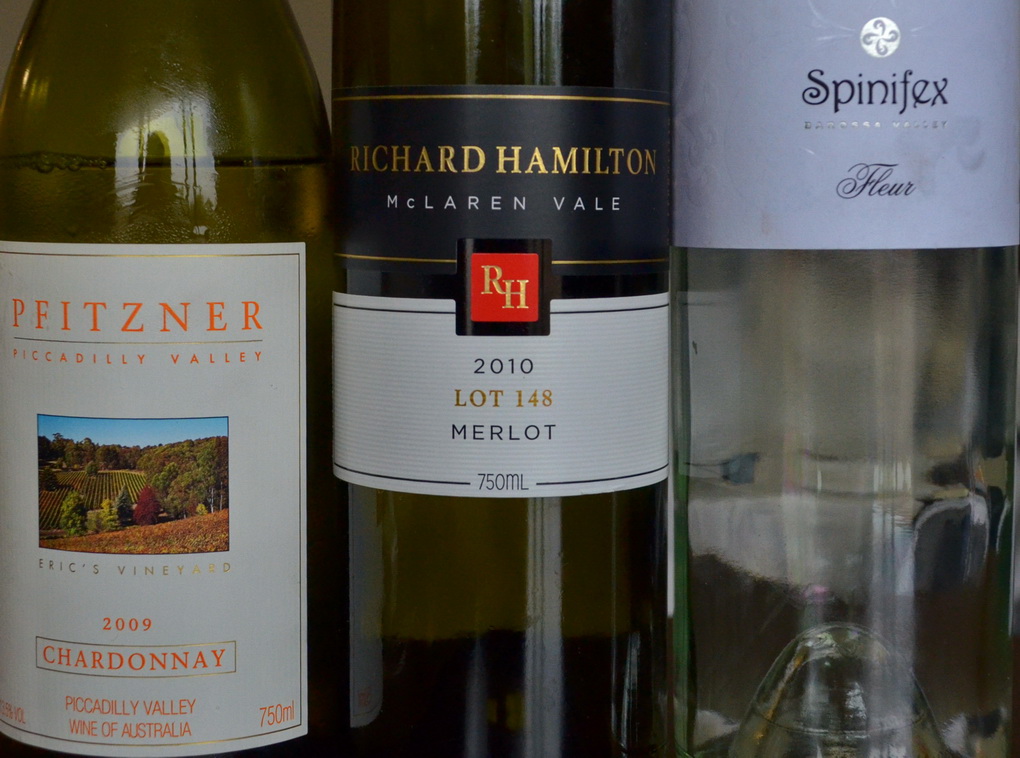 The Spinifex Fleur is a straight Roussanne, and it was far superior over dinner than the white Cote du Rhone from Guigal we thought might make a good benchmark. On recent form, Guigal seems to have lost it. The 2007 Cote du Rhone red was pretty ordinary and the 2009m wasn't much better. Richard Hamilton's Merlot was a plush, ripe but elegant red that's a joy to drink. The Pfitzner Chardonnay from the Adelaide Hills offered terrific fruit and zest but a touch of sweetness took away from it.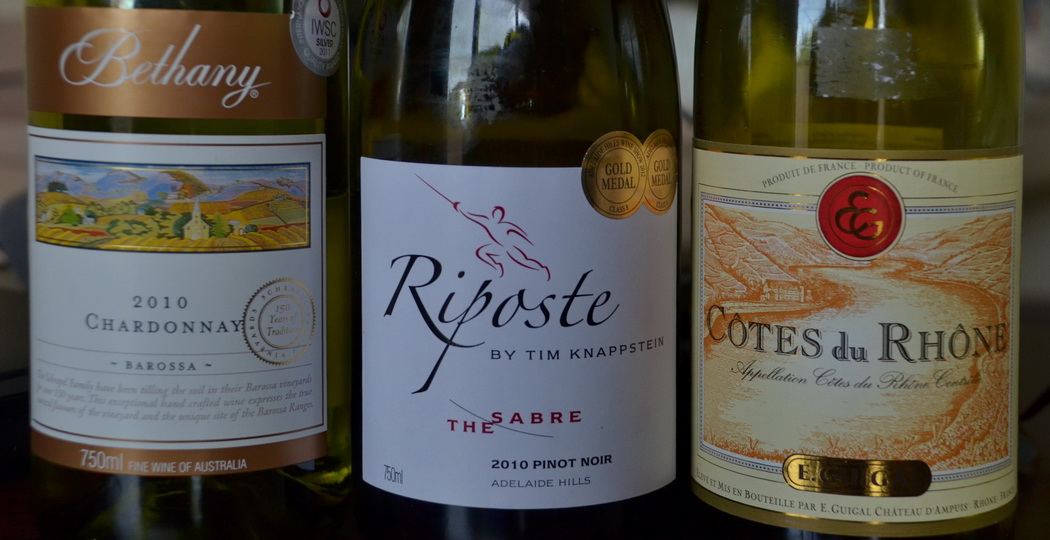 The Bethany Chardonnay was disappointing as well, and nowhere near as good as a previous bottle we had about 3-4 months ago. Just goes to show that Stelvin caps might've taken care of oxidation but not of bottle and batch variation. The Riposte The Sabre Pinot Noir 2010 had the same immediate appeal of the last bottle, but seemed a little short on complexity this time.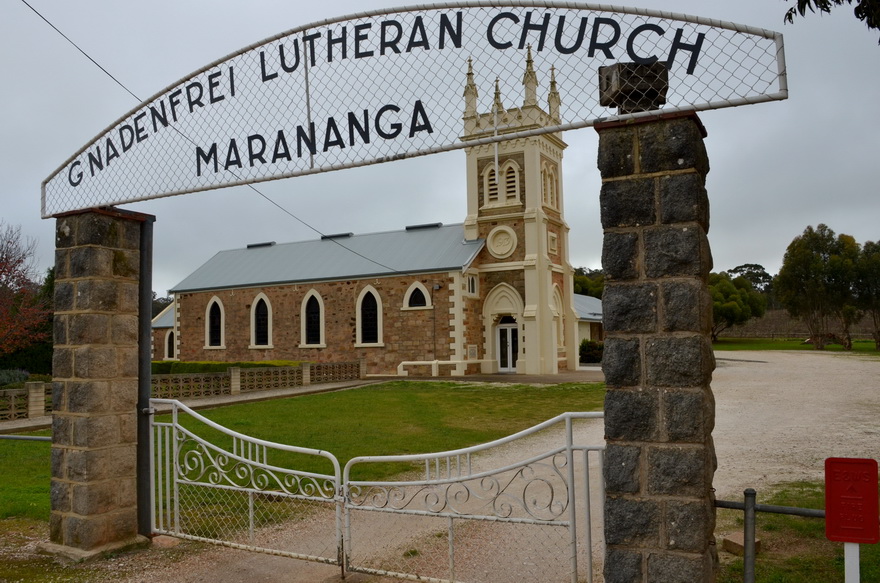 Only a few days before our visit, Peter Lehmann died at age 82. He was a living legend until then, admired by all who knew him. He was chief winemaker at Saltram/Stoneyfell before he set up on his own when new owners Dalgetty wanted to cut loose most of the contract growers during the wine glut of the early eighties. Peter called his company Masterson Wines after Sky Masterson, the big gambler in Damon Runyon's New York stories.  He changed the name to his own a few years later. The little Gnadenfrei church at Marananga reminds us of the faithful Germans who settled the Barossa.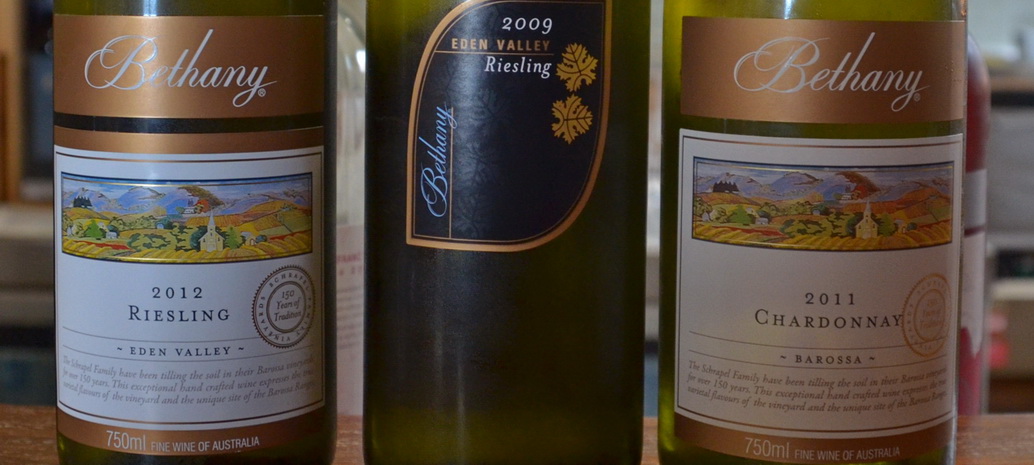 Bethany's vineyards are as picturesque as the labels suggest, and situated at the end of Bethany Road on the way to the lookout at Mengler's Hill. The Rieslings are true to type, with the 2009 a joy to drink already. The 2011 Chardonnay is a fine example of the elegant style. The reds are just as good, the whole operation says: quiet achiever. Some of the wines are best bought direct.
Charlie Melton's wines are mostly out our $25 range, except for the Father In Law Shiraz 2011 and the Rose of Virginia. This is a full on wine, big and busty and round. 14.5% just like the big boys. Charlie was the first to see the potential of a southern Rhone blend in the Barossa, and the Nine Popes GSM has been with us for 2 decades or more now.
The reds are stylish and polished, just as their labels suggest. They feel luxurious and expensive, not unlike Penfolds upper end bin reds but more subtle.  The Grenache was our favourite. The tasting room is a pleasant sit-down affair in a comformtable room with a fireplace. You can choose your wine and your food from the restaurant here as well.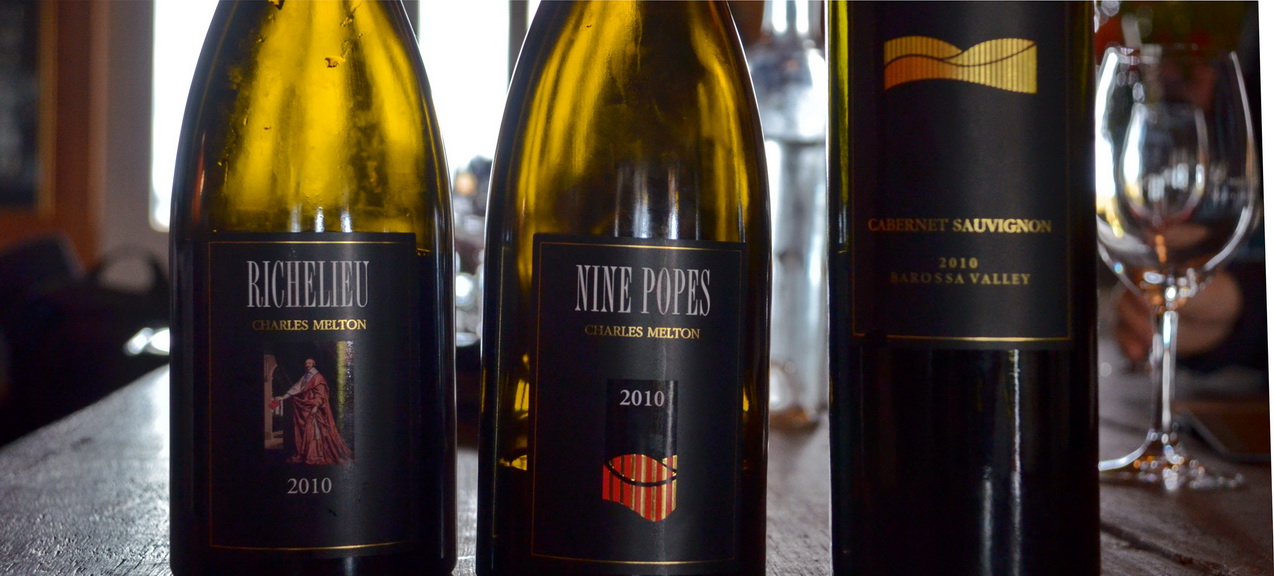 The Clare Valley is a 45 minute drive to the north of Gawler, and the vineyards always appear a bit unexpected and look out of place in the cattle and sheep country that surrounds them. Some would argue that this is where our greatest Rieslings come from, and I wouldn't argue with them. Andrew Mitchell said the Clare Valley was blessed with the unpopularity of Riesling, meaning you can buy these great wines for a song.
Mitchell's Watervale Riesling 2012 is made from 40-year old vines, which produce a Riesling of generous flavour and body. Paulett's Rieslings from Polish Hill lean toward the other end of the spectrum: restrained and austere to the point of shyness in their youth. Pikes and Wilson's Riesling are from the same sub-region, and tend toward elegance. The rest of the Clare Rieslings fall in between and, in 2012, they all show off this region to its best.
Andrew Mitchell also makes a great Semillon, and some cellar door specials plus some serious reds. You can buy some of these from the winery online  if you can't find them at your favourite retailer.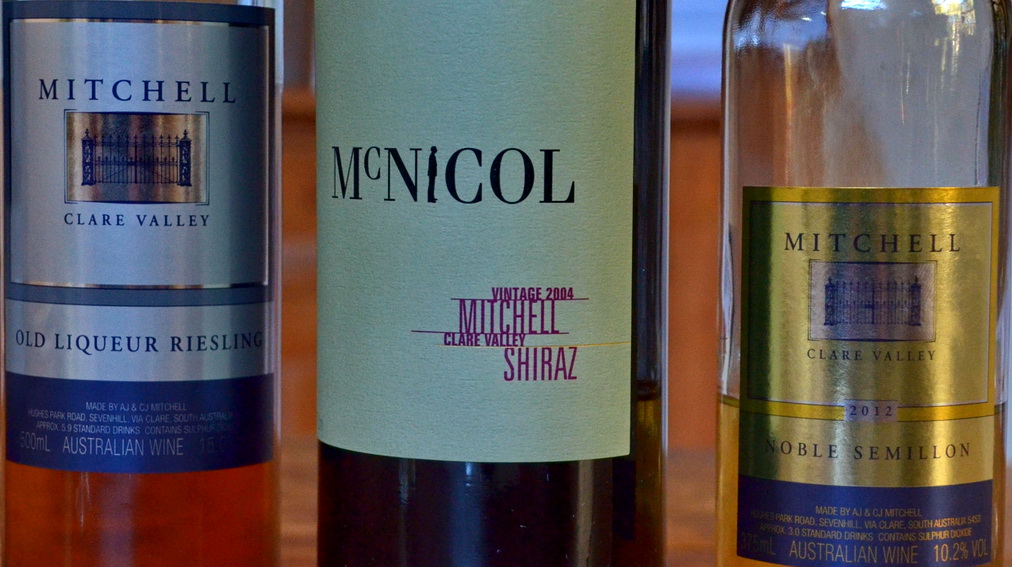 We had a stunning Shiraz from Crabtree in our last review, and we found the Rieslings here just as good. Everything here is done by hand, from pruning to picking to winemaking and the quality shows.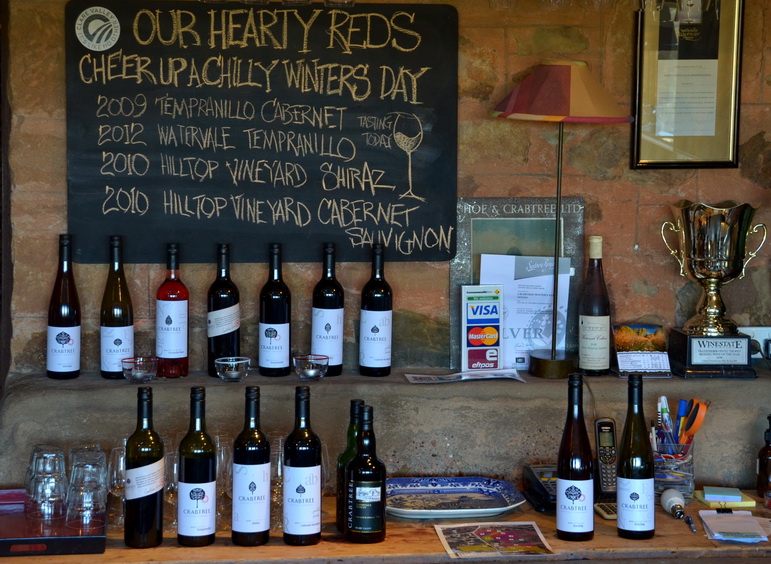 O'Leary Walker is another favourite, a much bigger operation than the boutique Crabtree with a lovely cellar door sitting on a hill with views over the valley. Here you can choose from Watervale or Polish Hill Rieslings, but don't overlook the reds – they made a great Cabernet and Shiraz in 2010, on the big side but built for the long haul. 1st Choice has the Cabernet on special at $17. It is the lucky country …
Kim
Cape Mentelle, Mike Press, Paul Jaboulet, Robert Oatley, Crabtree, Rosabrook, Wairpara Hills and more
Another mixed bag this week, but mostly good to very interesting, and more reds than whites to reflect the colder weather. One wine stood out like a beacon: Grant Burge Filsell Old Vine Barossa Shiraz 2010. This wine beat over 700 international Shiraz reds from France, South Africa, New Zealand and Australia to win the Greatest Shiraz in the World title from Winestar magazine.
Not sure it's THAT good but it's a very classy number. It's a classy Shiraz with fragrant sweet fruit and seamless cedary oak. It has also depth and length and surprising finesse. And balance at 14%. Good to drink now but will improve for a few years. It's a bit over our limit at $28.50 at Dan Murphy's in a mixed half dozen, but it's more than worth it. Read the Rest

BUY
Mount Eagle Eden Valley Riesling 2012 – $10 at GLUG
Terrific Eden Valley Riesling with all the class, depth and length of its more expensive neighbours. 'This is another case of being able to drink the highest quality at a low price,' says David Farmer. 'It also vindicates our move to the Barossa Valley as you cannot do deals like this in a Sydney pub.'
Windy Peak Yarra Valley Chardonnay 2012 – $10 at Dan M's
Soft and round, with ripe fruit the driver. Nothing too fancy but about as good a Chardy as $10 will buy. 
Evans & Tate Metricup Road Margaret River Chardonnay 2011 - $13.65 at Vintage Cellars
The big retailers drive us nuts, as I keep saying. I ducked into the local Vintage Cellars to buy some Hewitson Miss Harry 2010 GSM for $18 and found one bottle on the shelf at $23. Turns out the special price is an EOFY online special only, yes it said so in the fine print when I checked.
I checked on other options and found the E & T 2011 as a clearance item for $13.65 (single bottle). The website doesn't know the 2011 but lists the 2010 for $18. Drive you nuts, they do.
I like the 2011 better than the 2010. There's a bit more to it, some nice hints of white peaches and cashews, and a nice line of lemon acid running through it for balance and length. Not a huge amount of mid-palate flavour and depth, but I think it will grow with a year or two in bottle (it did after a day in the open one). I think for <$14 it's a really good deal; at its normal price close to $20, I'd go for the Hoddles Creek.
Paul Jaboulet Aine Cotes du Rhone Parallele 45 2009 – $12 at McGuiresCellarsOnline
My mate Reg gave me a bottle of this, I loved it and searched everywhere. Cracka wanted $22 for it but didn't have any (why do they pop up on every web search six times when they rarely have the wine in question, Google?)
A final desperate search turned up this super special in Brisbane. It's $15 shipping for an AusPost e-parcel of six but it's still worth it since this is almost the perfect CdR IMHO. Lovely red fruits with a touch of slate and a hint of dust. Medium bodied, elegant, seductive.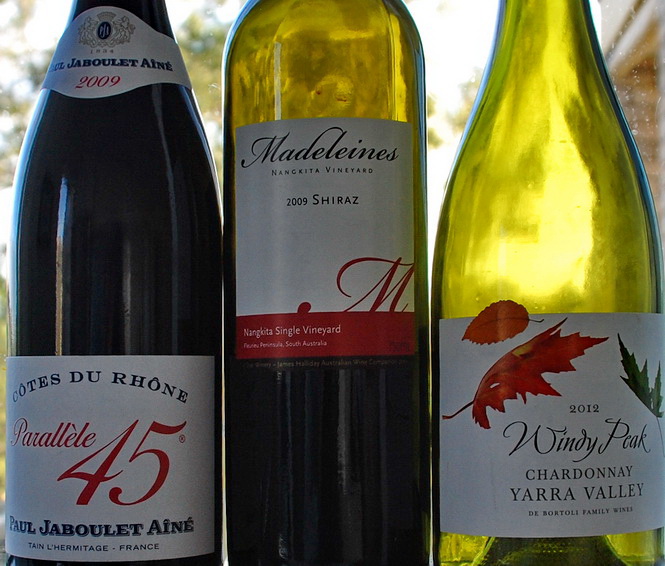 Madeleines Nangkita Vineyard Shiraz 2009 – $18 at Kemenys
Never heard of Madeleines? Neither had we. It used to be called Vincognita, and it's a boutique winery in McLaren Vale with vineyards in several locations. The fruit for this wine came from the Nangkita vineyard on the Fleurieu Peninsula, and the wine is quite different from McLaren Vale or Barossa Shiraz. It's more elegant, more fragrant and the fruit is more refined suggesting cooler climate origins. A gentle touch of warm oak (American?) rounds out this lovely wine. $13.9%
Mike Press Adelaide Hills Shiraz 2012 – $13 at MyCellars
The wine is kind of compact, a bit like Mike is built, with a good concentration of red fruits on the middle palate and a touch of soft oak. It's barely a year old but drinkable already, yet with plenty of headroom for growth. It's not huge but it's not exactly subtle either. Tyson Stelzer gives it 94 points, so does Campbell Mattinson at the Winefront. I saw it more as a 91/92 point wine, which is pretty good for the money. You can order direct from the winery as well, which makes sense if you live in Adelaide because the freight is minimal. 
Crabtree Watervale Shiraz 2010 – $20 at MyCellars
Another boutique winery, this time in the Clare Valley, bought in 2006 by a Sydney couple making a sea change. The winemaker is Kerry Thompson of Wines by KT fame; in the early naughties, she made the wines at Leasingham. Crabtree wines are small production, hand picked and handmade and it shows: this red is a knockout.
It has that extra quality that lifts it above most Aussie reds, the way the French oak is integrated with the lush fruit. This wine is seductive yet quite complex too; it's Clare Shiraz in exceptionally capable hands. A lot of SA Shiraz is dense, chunky and lumpy IMHO, but this is different. It's a terrific food wine, for one thing, perfect with a slow-cooked lamb shoulder. Could hold its own against any Shiraz several times its price. Real bargain. JH gives it 95, and I'll raise him one point.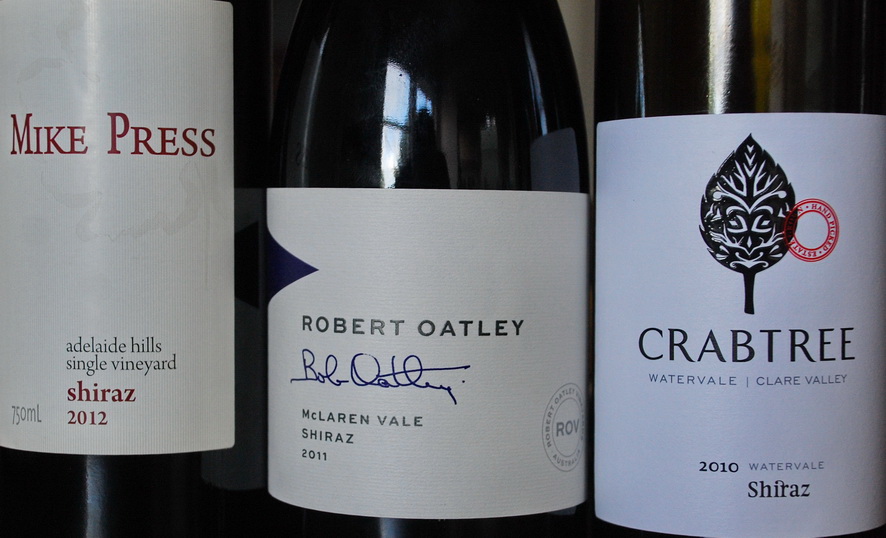 Rosabrook Margaret River Cabernet Merlot 2011 – 2 for $22 at 1st Choice Liquor
Pretty much par for the course Margaret River Cabernet Merlot, soft and plummy with some dried herbs thrown in, fine acid and a touch of drying tannin. Lacks a little in the depth department but that's being really picky in an $11 wine. Bargain.
Cape Mentelle Cabernet Merlot 'Trinders' 2010 – $20 at Kemenys
I wasn't impressed with the 2010 and was very much the odd man out at the time, yet I reckon 2011 was a superior vintage in the west. This wine is more proof. It's hard to imagine a richer, more perfumed, more velvety red in a medium-bodied format, with depth and length and lots of interesting touches. There's a bit of Cabernet Franc and Petit Verdot thrown in to make it more interesting. Dollars cheaper here than elsewhere. Another bargain.
Evans & Tate Metricup Road Margaret River Chardonnay 2010 – $16 at Winestar
Just a week ago I said this: 'I'm prepared to stick my neck out on this one because we had the 2009 on the weekend, and I wish I'd bought more of it. The 2010 was rated 96 Points and awarded a Gold Medal at Royal Queensland last year, Bert Werden at Winestar tells us. This opened the door to the National Wine Show – 'the Grand Final of wine shows.' Here it won the top Gold Medal and the trophy for the best Chardonnay against all comers including the usual suspects at 4 times the price.'
I should've waited. This isn't bad but it's nowhere near as good as the 2009. Quite elegant, perhaps too much so as it's bordering on bland. Good length, nice mouth feel but not a lot of flavour. Maybe it'll fill out get a lot better. The 2009 improved over a year or so. Right now, I'm not convinced.
Madfish Bay Golden Turtle Chardonnay 2012 - $14.25 at Dan M's
I didn't think much of this last time I checked, then saw Gary Walsh at The Winefront give it a great rap – excellent Margaret River chardonnay at an exceptional price – and 92 point. Gary has a pretty sharp palate and doesn't throw points around so I thought I'd better have another look. What I found was exactly the same as the first time around: no strong Chardonnay character, this could be a blend of other white grapes. Didn't like the slightly sweet-and-sour oak either.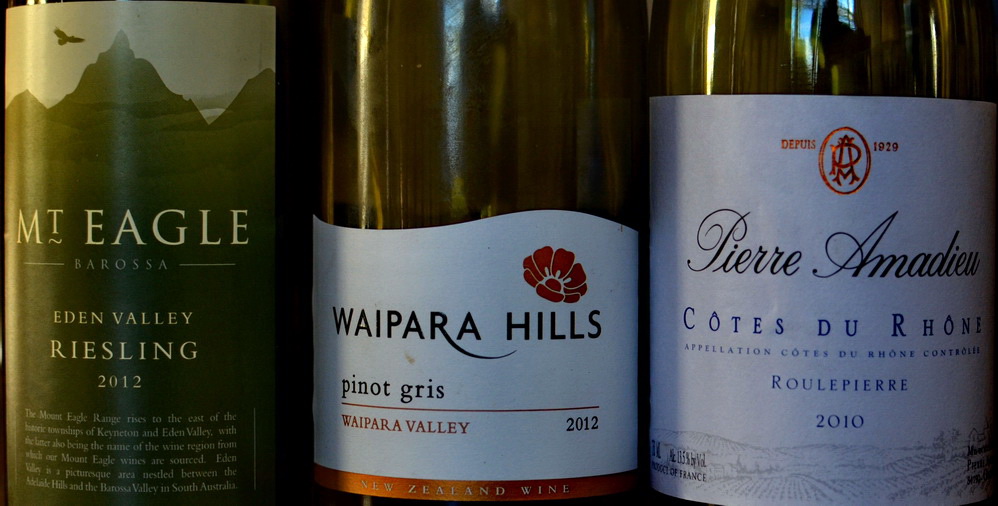 Pierre Amadieu Cotes du Rhone 'Roulepiere' 2010 – $20 at Cremorne Annadale Northbridge Cellars
I wanted to like this one, and it has pretty nice fruit and depth in a medium weight package. The problem is that there's too much of that earthy character. I love hints of dust and slate but it's burnt earth in this case. Shame.
Robert Oatley McLaren Vale Shiraz 2011 - $17 at MyCellars
This wine won a trophy & gold medal at the 2013 Decanter International Wine Challenge, for Best Australian Rhone Style. It does have a hint of that earthiness about it, but it's not as good as the Paul Jaboulet above. You'd be hard pushed to guess where this wine came from, but it's obvious that it was made by a skilful young Turk in the modern Aussie idiom. Larry Cherubino, I think , now under contract to Bob Oatley, or is it Robert – even the label is confused.
Karrawirra Barossa Valley Shiraz 2010 – $9 at GLUG
Just to prove that not every wine from David Farmer's boutique set-up in the Barossa is a winner. This is big and ripe and without obvious faults. It's also without charm: It's a bit lumpy, a plodder not a dancer. IT's OK for the modest price is the best I can say for it.
AVOID
Waipara Hills Pinot Gris 2012 – $15
After the tour de force that was the 2011, this was a real disappointment. If most of the 2012 KiWI Savvies lack acid and length and structure, this Pinot Gris is flabby. The flavour is all over the shop as well and not authentic by my definition of either the ripe Pinot Gris or the leaner Pinot Grigio style. This wine is a disaster from a winery that usually puts out pretty decent wines.
Kim
In the last couple of weeks, we've been checking out the latest bargains from Kemenys' Hidden and Devils Ridge labels. Not sure why they do 2 different ranges of bargain wines under their own labels. The only difference is that all Devil's Ridge wines are $10 and sometimes mention the winery, while the Hidden Labels vary in price and invite you to guess the origin.
We also bring you some of Australia's great dessert wine bargains since the nights are getting colder. They're great with fruits and nuts and dark chocolate. Go to the end of the post to read about them.
BUY
Devils Ridge Block `16 Riesling 2012 – $10 at Kemenys
The Polish Hill River moniker has amused us for years – is it a hill or a river? Either way, it's a bargain Riesling from the Wilson winery that shows the delicacy of this area but is more forward than you'd expect, filling out and opening up over several days in bottle. Not as much lime and acid as the best wines from this area but utterly enjoyable.
Bethany Barossa Semillon 2010 - $15 at Dan M's
This was a fascinating foil for the Tyrrells Belford 2007 (see below), in the sense that it had the clearer line and length of fine acid, and the development potential of a decade or more. Classic grassy, lemony young Semillon at this stage. Surprised with its finesse, given the Barossa origin, but Bethany is quietly making great wines down there. 2010 was a great year too.
Essenze Sauvignon Blanc 2012 – $12.50 at Kemenys
Enjoyed another bottle of this and confirmed again that it's one of the better 2012 Kiwi Savvies. Fresh and grassy with a hint of gooseberries and a very clean line of acid keeping it all on the straight and narrow. Much tighter structure than most of the soft and soggy 2012s. 
Please note: the Hidden Label Savvy in the photo has since sold out – them's the breaks.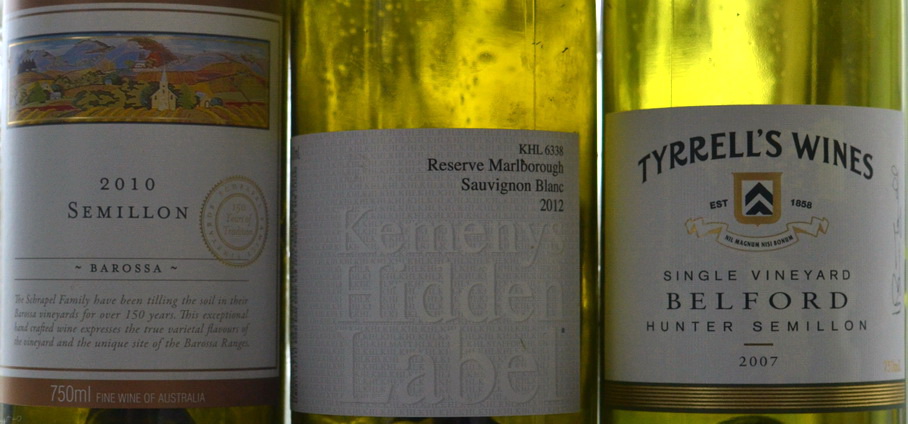 Pfitzner Eric's Vineyard Chardonnay 2009 – $15 at Annandale Cremorne NorthbridgeCellars
James Halliday tells us that 'The late Eric Pfitzner purchased and aggregated a number of small, subdivided farmlets to protect the beauty of the Piccadilly Valley from ugly rural development. His three sons inherited the vision, with the vineyard planted principally to chardonnay and pinot noir.'
This is not easy to find elsewhere but it's a terrific modern style Chardonnay, fresh and vibrant with lovely integration of white peaches and gentle oak. Worth chasing.
Hoddles Creek Yarra Valley Chardonnay 2012 – $19 at MyCellars
Another winner from Franco d'Anna in the upper Yarra Valley. Lovely fruit in the white peach spectrum, creamy mouth feel from the classy oak that is seamlessly integrated. Already enjoyable but will be better in a couple of years. Can't think of a better Chardonnay under $35.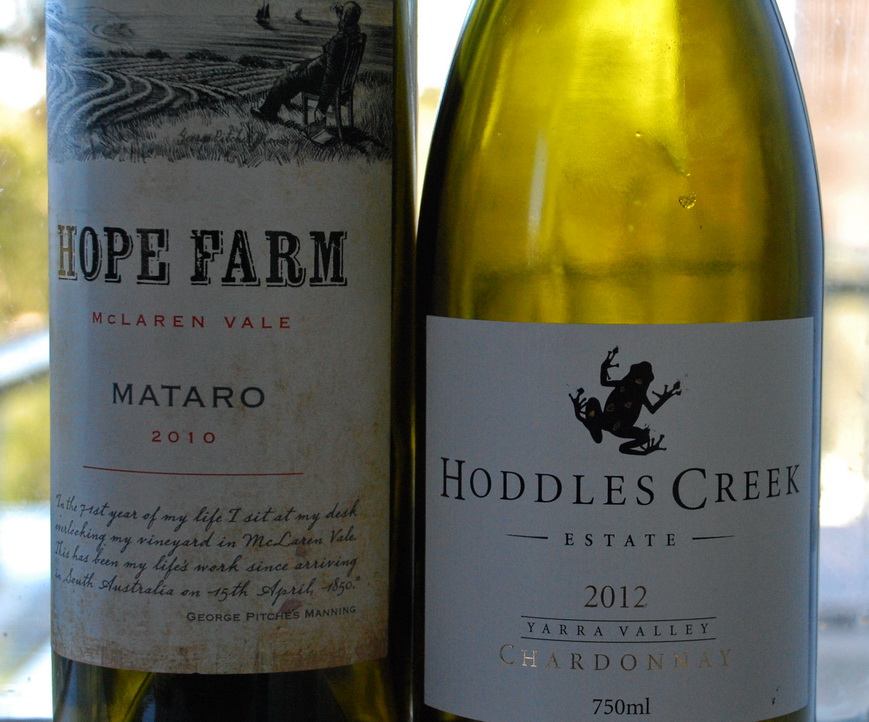 Hidden label McLaren Vale Merlot 2011 – $12 at Kemenys
This turns out to be the Richard Hamilton Lot 148 Merlot, and it's a beauty. The only clue to the wine's identity was the Trophy for best Merlot at the Queensland show. More like a 50/50 Cabernet Merlot, not just simple plum compote. There's lovely dark berry fruit here, and a hint of polished oak, and depth of flavour with elegance. Wonderful wine for the money. 
Devils Ridge Cabernet Merlot 2011 - $10 at Kemenys
A plush, velvety number from Margaret River that slips down the hatch with great ease – soft and cuddly but not too big. 14%. Just perfect for all those times you just want an easy-drinking, mouth-filling, satisfying red.
Devil's Ridge Block 15 Cabernet Sauvignon 2011 - $10 at Kemenys
More of the same here, but a touch longer and leaner, almost stylish. Margaret River again.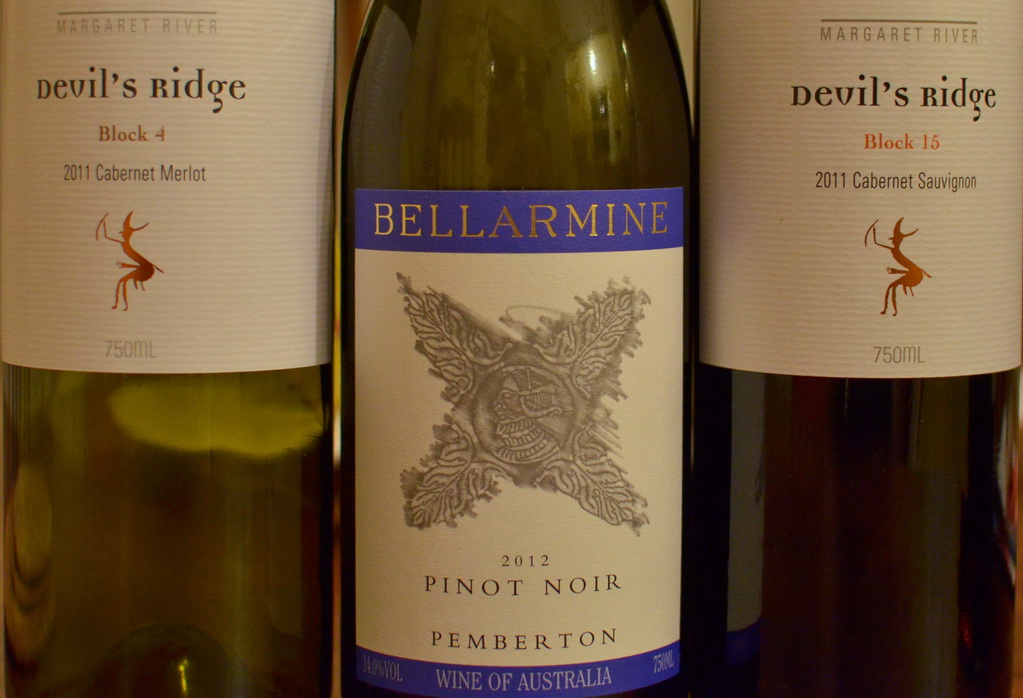 Hope Farm Mataro 2010
This is an eye-opener from GLUG, a convincing demonstration of the wonderful red Mataro/ Mourvèdre can produce in the Barossa. Sweet fruit and layers of silky flavours, all seamless and stylish. Lovely mouthfeel, soft but balanced. Great red with lamb. In France, this variety can make very tough reds and is known as Etrangle Chien (yes, dog strangler).


NOT CONVINCED
Houghtons White Classic 2012 - $6.50 at Kemenys
It doesn't seem right to pick holes in a wine at this price, and it isn't really that bad. If you don't mind a bit of artifice, it's OK to drink chilled on a hot day. We'd rather spend a couple of dollars more and buy a Montes Chardonnay from Chile.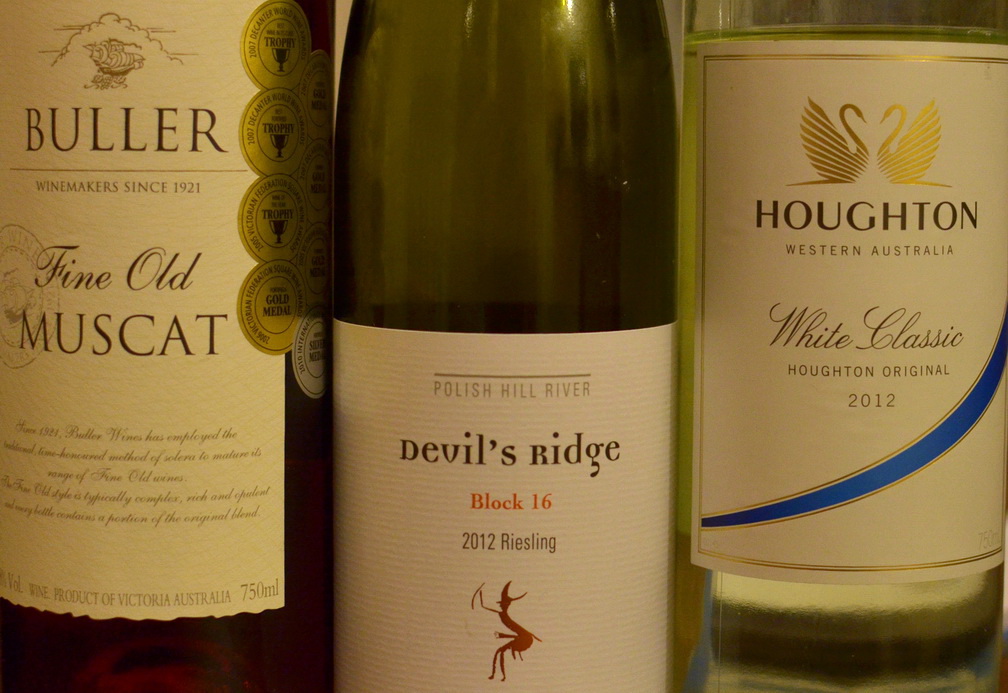 Tramin Pinot Grigio 2011 – was on special for $15 at Vintage Cellars
Sudtirol is an area on the southern Alps that Austria ceded to Italy after the last WW, so it's now called Alto Adige. We were expecting a PG with a bit more bite, backbone and minerals than our ripe down under versions; instead we got more ripe pears and peaches. Shame.  
Tyrrells Belford Semillon 2007 – $24 at Kemenys
I've copped a fair bit of flak from my mates for my hard attitude to various Hunter Valley Semillons. The reason I chose this one is that it's actually made from ripe fruit (12.6%). It's the last of the Semillons picked by Tyrrells from the Belford vineyard near the New England Highway. This 6-year old wine proves my point that riper fruit makes better Semillons, but it tastes more like a Chardonnay. In that sense, it doesn't quite convince. I think the Bethany Semillon is the better buy.
Mount Langi Cliff Edge Shiraz 2009 – $22 at MyCellars
This has been around for a while, despite James Halliday declaring it a great bargain and giving it 96 points. Yes, there's a promising nose and nice soft, fragrant red berry fruit here but not a lot of complexity or length – the wine drops off the cliff instead of producing a decent finish. For my money, it simply lacks substance. There are better reds around for this money.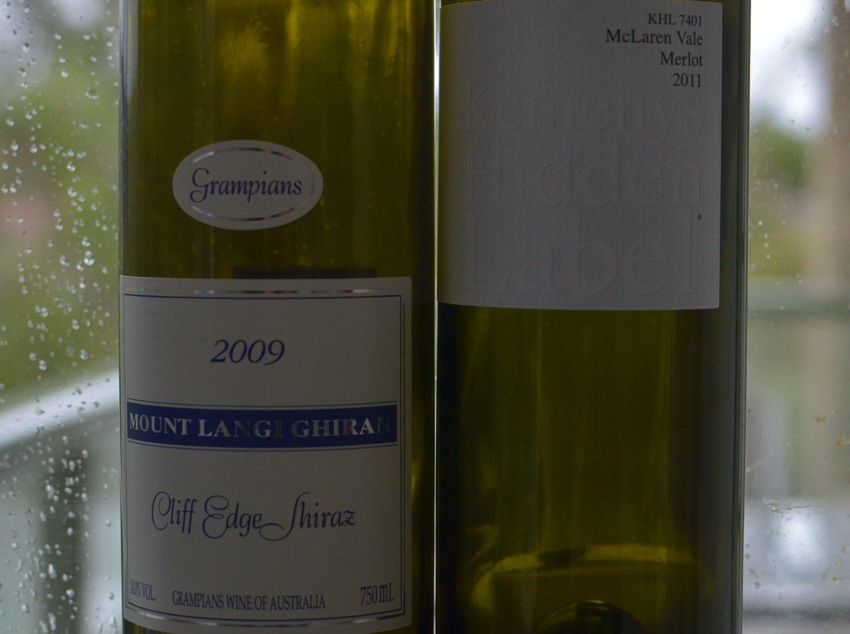 Bellarmine Pinot Noir 2012 – $18 at Kemenys
We admire this winery at Pemberton in WA which produces delicate boutique whites at modest prices , and we really wanted to like this wine. The nose promised classic red Burgundy (notes of dank leaves, forest floor and compost) but the palate failed to deliver on it. It lacks the sweet fruit we like to see in Pinot Noir, and the sharp line that keeps it in check. It's short as well – three of us agreed on this, and the wine didn't redeem itself over the following days. Again, Halliday sings its praises and rates it 95. We were disappointed.
Fortified Beauties
These are unique wines to Australia, mostly made from muscadelle grapes around Rutherglen in North-Eastern Victoria. The rest of the world hasn't discovered these treasures yet, and they're largely ignored in their home country. As a result, these treasures are serious bargains.
Morris Classic Tawny 500ml 500ml – $17 at Dan M's
Morris Classic Liqueur Muscat 500mL - $17 at Dan M's
Morris Classic Liqueur Tokay 500mL - $17 at Dan M's
Buller Fine Old Tokay 750 ml – $18 at Dan M's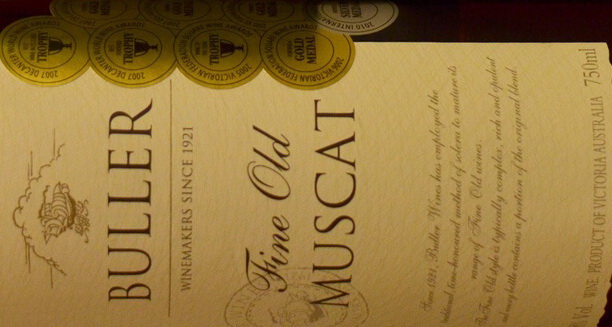 Big Reds for Cold Winter Nights
And a few good whites that are easy on the pocket

We have a wide-ranging collection this month, of wines tasted the usual way and with friends on other occasions. There are no wines in the AVOID category this week, which is surprising.
BUY
Mike Press Chardonnay 2012 – $10 at Winestar
A good $10 Chardonnay for everyday drinking is always a tough ask, but Mike Press has supplied an emphatic answer: an unwooded Chardy with ripe, almost sweet fruit, plenty of authentic flavour and morish mouth feel. Depth and length are good as well, no shortcuts here.
Please note: at this price, you have to buy an unbroken dozen (fair enough). You can buy the wine in a mixed dozen at MyCellars for $11.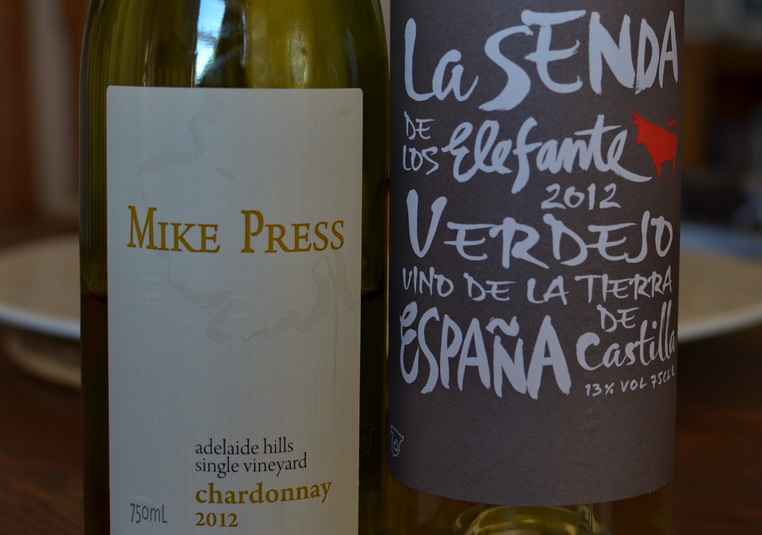 Vasse Felix, Whither Hills, Margan, Tar & Roses
The BUYs include
Rosabrook Semillon Sauvignon Blanc 2012
Margan Hunter Valley Chardonnay 2012
Hewitson Miss Harry GSM 2010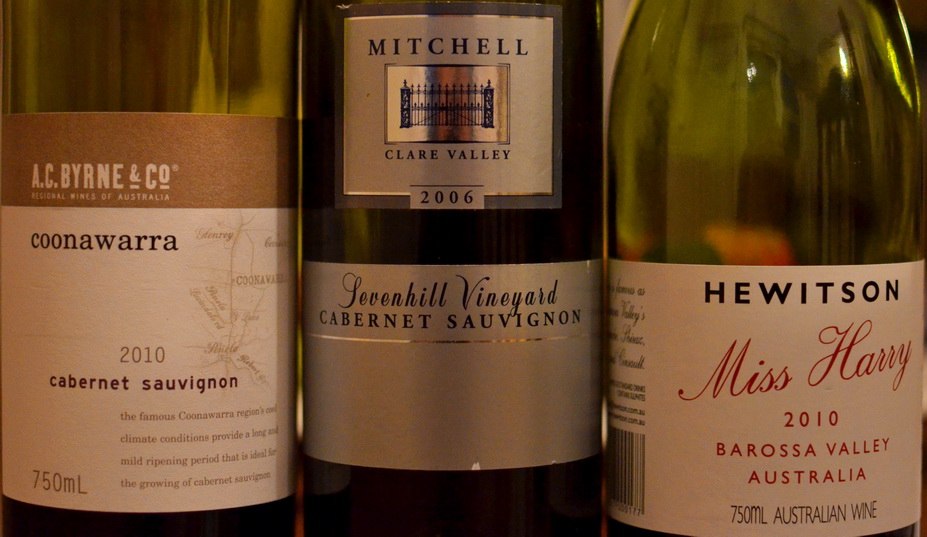 The disappointments included
Vasse Felix Cabernet Merlot 2011
Mitchell Sevenhill Cabernet Sauvignon
Stoneleigh Sauvignon Blanc 2012
Thorn-Clarke Champions, Xanadu and Plantagenet
It was a good week for bargains, red and white
Some serious stars this week, white and red. Great Plantagent Riesling 2012, Xanadu Chardonnay 2009, and Thorn-Clarke Cabernet-Shiraz, the $20 red that beat all comers in the great Aussie Red competition 2012. Then there's the red bargain of the month, the $ 8.90 Brookland Valley Verse 1 Cabernet Merlot 2011
Essenze, Amelia Park, Turner's Crossing, Red Claw and more
Amelia Park Mishmash Red 2010
Essenze Marlborough Sauvignon Blanc 2012
Red Claw Mornington Peninsula Sauvignon Blanc 2011
Villa Wolf Pinot Gris 2011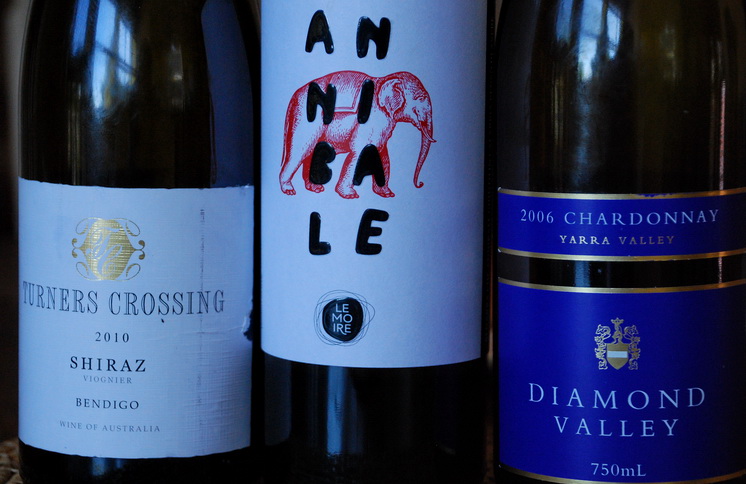 Among the disappointments were
Bay of Fires Pinot Noir 2011, despite winning Best Wine in Show in Sydney

Le Moire Annibale 2010
Turners Crossing Shiraz Viognier 2010
Good Pinot Noir under $25?
Another look at 'Mission Impossible'
There were surprisingly few bad Pinots here, and a few good ones:

TarraWarra Yarra Valley Pinot Noir  2010 - $20 at Dan Ms or Winestar
42 ⁰ South Pinot Noir 2009, Tasmania - was $22 but is no longer available
Punt Road Emperor's Prize Pinot Noir 2010, Yarra Valley - $14 at Dan M's

Aged Aussie Rieslings – affordable treasure
If you've missed out on these beauties, here are some shortcuts to Nirvana
Old Rieslings are among my all-time favourite wines, and they represent a unique Australian wine style. New Zealand comes close with many outstanding Rieslings but we don't see most of these on this side of the Tasman. Alsace is another option for full-bodied, dry Rieslings that age well, but the best of Alsatians expensive. German Rieslings are different on the whole - more delicate, less ripe, less dry, and less affordable.
The great thing about Aussie Rieslings is that they're dirt cheap. In the last month or two, you could buy Jim Barry's Watervale Riesling 2012 for less than $13, O'Leary Walker Watervale Riesling 2012 and Pewsey Vale 2012 for less than $15, and Heggies 2012 for just over $16. These are commercial Rieslings of terrific quality, they're absolute bargains and they'll all improve for many years.

Summer of Riesling 2013 – it doesn't get better than this!
2012 was the best Riesling vintage for a decade. 2013 was the hottest summer on record
There were many days when I preferred cold beer to chilled white wine, but there were late evening picnics at the beach where Riesling improved the flavour of cold chicken. This is one of the best-kept secrets in matching food and wine: roast chicken and Aussie Riesling. Wine and food scribes always talk about eating oysters and shellfish with young Rieslings, because of their lime juice and mineral flavours. If people only knew that Riesling and roast chicken are a match made in heaven, the price would go through the roof. As it is, Rieslings resolutely remain super bargains.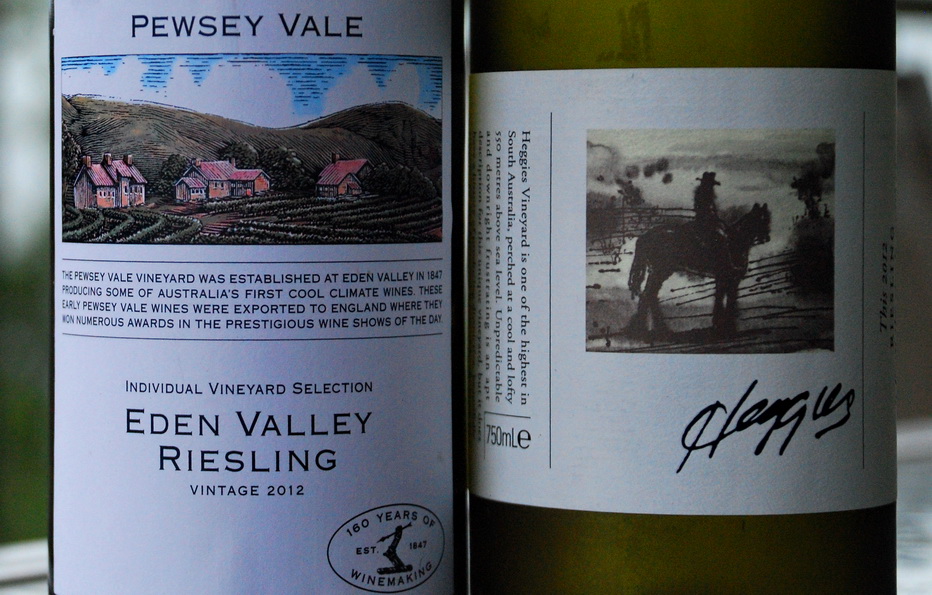 Today we compare the Pewsey Vale 2012 and its sibling Heggies. And the a 2012 Jim Barry with a 2007. And we review more wines from Wither Hills, Vavasour, Nugan Estate, Tahbilk, M.Chapoutier, Paul Joboulet and more. As usual, we've grouped them into BUY, NOT CONVINCED and AVOID.
Dopff Grand Cru, Dandelion, Dog Point, Norfolk Rise, Shaw & Smith, Woodlands, Amelia Park, Castle Rock
on
The bigger they are, the harder they fall
Bargains have been far and few in between out there. Coles seems happy to play distant second fiddle to Woolworths so the heat has gone out of the battle. Worse, they're up to their old tricks: bumping up the Rec retail price and then putting the wines on special. One example: Dogpoint Savvy at 1st Choice on special for $25; you can buy it for $20 at Kemenys every day of every week.
Kemenys prices are always sharp but the latest cattledog didn't really really tempt me with anything. Villa Maria Savvy 2012 for $11.50? Na. The Vavasour Avatere at $13.25 is most likely a better option – it's waiting in the wings, I'll let you know next time. Jim Barry Watervale Riesling 2012 for $13.50 is a bargain if you haven't bought cases of this already. The Mount Langi Ghiran Billi Billi Shiraz 2010 is still on offer for $12.50, and you'd be hard-pushed to get a better BBQ red for the money my friends tell me.
Dandelion Vineyards Wonderland of the Eden Valley Riesling 2012
This wonderland seems to exert a powerful effect on all those who go near it. This is more than wine, clearly: what we have here is poetry and magic and fairy dust.
'This is a highly impressive partnership,' James Halliday tells us in his Wine Companion, 'between Peggy and Carl Lindner (40%), Elena and Zar Brooks (40%), and Fiona and Brad Rey (20%). It brings together vineyards spread across the Adelaide Hills, Eden Valley, Langhorne Creek, McLaren Vale, Barossa Valley and Fleurieu Peninsula. Elena is not only the beautiful wife of industry dilettante Zar, but also an exceptionally gifted winemaker.'
Southern Highland Wines, Tempus Two & Bergerac
Treasures from local wine merchants
I read that Michael Cooper, NZ's James Halliday, had pronounced the Spy Valley Chardonnnay 2011 the best NZ Chardy released in 2012. You can get all kinds of Spy Valley wines in Sydney but the Chardonnay isn't one of them. After an exhaustive trawl of the internet, the only place that popped up as a source was Mosman Cellars.
Mosman Cellars? I didn't even know that we had an independent wine merchant left around here. There's Cremorne Cellars down in Spofforth St, holding out against the Vintage Cellars monopoly in this area. Coles bought the Theos chain some years ago, and Theo had bought just about all the grog shops from Neutral Bay to Mosman. It was time to do what I've been preaching and show support my local wine merchant some support.
Fraser Gallop Chardonnay to Audrey Wilkinson Shiraz
When it comes to wine tastings, there's no shortage of surprises.
We opened a few interesting wines over Christmas and New Year, as you do. I wrote about some of them in this post
One of my followers asked me why I didn't review Hunter Valley wines more often. My experience is that you have to pay more than $25 for good Hunters – for example the Tyrrells Bin reds and whites, and the better Brokenwoods – and that other wine areas offer better value. Another reason is that I'm not fond of most of the underdone Semillons that come out of the valley, even if I'm the odd man out here.
So I thought I'd better try some Hunter Valley wines, but Dan Murphy's selection was remarkably small. Perhaps most Hunter wine is still bought direct from vineyards since its so close to Sydney. Nothing wrong with that but it didn't help me on this occasion. Still, we have a few Hunters here for review.

Kooyong Clonale & Oakridge Chardonnays 2012, de Bortoli Yarra Valley Pinot Noir 2010, Richard Hamilton Shiraz 2010
There's some Christmas Cheer here, for sure.
How do we choose the wines we review?
That's a simple question for most wine writers: they review the samples wineries or distributors send them. That's why you see so many reviews of wines you've never heard of and can't get hold of easily. I choose wines because:
They've had positive reviews from Halliday, Hooke, Stock, Stelzer et al
They've appeared on best or top lists such as Halliday's Top 100 in 2012
They've won significant trophies
They've been recommended by friends who know their wines
They're being promoted /discounted by major outlets
I was impressed with the previous vintage
The only other criterion is that the wines I write about are readily available and cost less than $25. Except for the Christmas selection I've just posted.
OK, let's get down to the wines of the last 2 weeks. As always, the reviews are my views and often differ from those of other reviewers. Where the difference is marked, I add other views to provide a broader perspective. As always I buy the wines I review in the same shops you do. I don't review samples as a rule, which may explain the different results.